The existing gas market as well as any future hydrogen market will use high-pressure pipelines to deliver energy to consumers. Therefore through a combination of its own in-house expertise and international associates MJMEnergy has been able to provide consultancy support on pipelines and networks to its clients in the following areas:
The engineering design and routing of high-pressure cross-country pipelines.
The costing of high-pressure pipelines and other relevant infrastructure.
The modelling of gas network flows for low, medium and high-pressure networks.
The following are some examples of our work undertaken in this area.
Indonesian Gas Infrastructure Optimisation and Investment
Senegal Gas-to-power strategy
Ionian-Adriatic Pipeline (IAP)
Lebanon Gas Development
Indonesian Gas Infrastructure Optimisation and Investment
Background
The gas market in Indonesia is beginning to change – some would say has already changed. With a growing economy, Indonesia is experiencing corresponding growth in local gas demand, reversing Indonesia's traditional role as a resource exporter. While LNG exports still provide a valuable source of income, domestic gas resources are increasingly seen as a valuable low carbon resource for the growing local economy. Therefore, in addition to Indonesia moving away from a strong LNG export orientation, there is also likely to be a greater utilisation of gas in the domestic market. Whilst Indonesia does still have significant gas reserves, future domestic gas production will come increasingly from more remote parts of Indonesia. In addition, the expectation is that overall domestic gas production is set to decline, with imported LNG supplying an increasing share of total domestic supply.
As the Indonesian gas market begins to change it has become clear that gas infrastructure is a chronic bottleneck to development of the domestic gas sector. If Indonesia is going to meet its rising demand for gas from a combination of indigenous supplies and LNG imports, then significant infrastructure investment will be required in a number of areas including LNG Terminals; the development of interconnected gas transmission systems; and the development of 'virtual pipelines'.
Previous attempts to develop infrastructure such as via a 'gas pipeline bid round' failed to achieve its objectives. Therefore, a paradigm shift would be needed to take place in the way gas market infrastructure is owned, operated, developed and funded in order to link gas reserves with gas markets. In order to achieve this, it seems likely that an overhaul of the midstream institutional and regulatory framework will need to take place, which has been recognised by the Government as critical to the success of the Roadmap.

Overview of the project
As an outcome of their dialogue with Government of Indonesia and other relevant stakeholders on potential developments throughout the gas chain in Indonesia, the World Bank required help to facilitate the development of an optimized plan for gas infrastructure development in Indonesia. Additionally, MJMEnergy were tasked with providing an integrated framework for investment and financing of gas infrastructure focusing on the following three areas.
Gas Infrastructure Optimisation
Investment Framework for Gas Infrastructure
Review of Gas Infrastructure Planning Function
Project implementation – In order to undertake this work MJMEnergy formed a bespoke Project Team made up from a combination of MJMEnergy internal staff, international associates and local partners in Indonesia.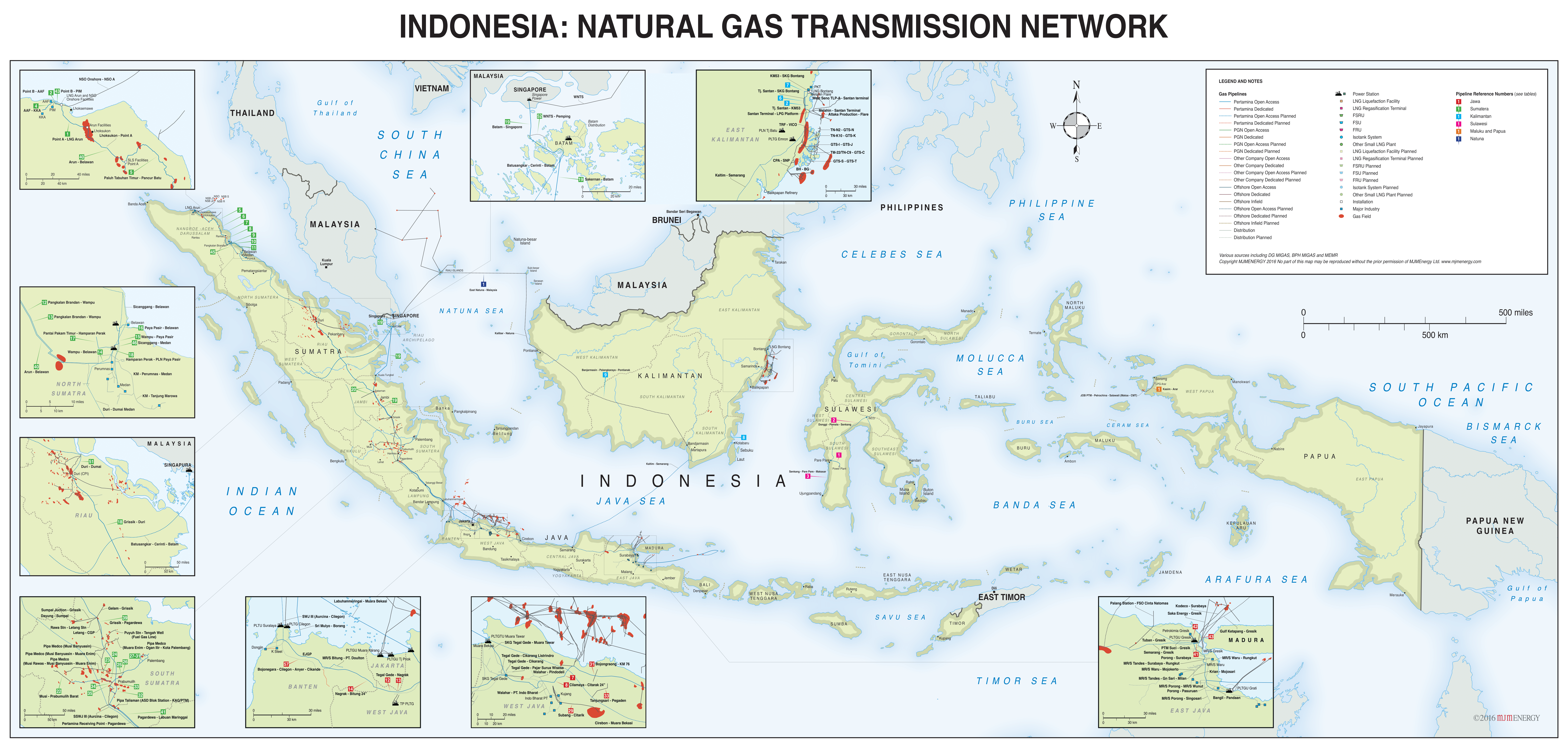 Infrastructure Optimisation
MJMEnergy focussed on data analysis and forecasting, in order to determine how to optimise Indonesia's existing (Image above) and proposed gas infrastructure and import facilities. In order to understand the capability of the Indonesia's gas pipeline network the Project Team needed to identify the ownership, location, lengths, sizes and capacity of high-pressure pipelines in Indonesia. This was done in order to supply forecast gas demand, in the context of gas' growing share of primary energy supply.
Investment Framework for Gas Infrastructure
MJMEnergy developed the investment framework for both state-owned enterprises (SOEs) and the private sector to ensure appropriate incentives are in place. This was done so that necessary infrastructure investments could be realised efficiently while minimising the risk to the Indonesian government and SOEs.
Review of Gas Infrastructure Planning Function
MJMEnergy led a review of the existing processes of infrastructure planning and approval, recommending improvements based on international best practice. In addition, the Project Team carried out a needs assessment of DG Migas to identify the expertise and organisational capacity it would need to carry out planning and oversight of infrastructure investment.
An analysis of the interaction (or lack of it) between the major pipeline asset owners – In addition to establishing the available capacity in different pipeline systems the Project Team also explored the potential benefits that might exist by connecting pipeline systems owned and operated by different stakeholders. The Project Team then undertook a financial analysis of the potential savings that might be achieved by developing a single gas pipeline network serving the main Indonesian islands of Java and Sumatra, from a combination of pipeline upgrading, interconnection and movement from single Point-to-Point pipelines to a fully integrated network.


Conclusions
Based on the analysis undertaken throughout this Project, MJMEnergy were able to draw the following conclusions and make recommendations in relation to the planning process associated with Indonesia's gas industry:
A fundamental shortage of gas which will hinder economic growth
There is limited network capacity and interconnection
The current gas network regulation and planning framework was inadequate, hampering economic growth encouraging short-term profits on individual pipelines rather than facilitating the development of a network-based transportation regime
Based on these conclusions, the Project Team provided a series of recommendations to act as a starting point for developing Indonesia's gas infrastructure. These included:
Move away from a point-to-point to a network-based culture
Institute a coordinated planning function
Develop an unbundled transportation network
Senegal Gas-to-power strategy
Ionian-Adriatic Pipeline (IAP)
Lebanon Gas Development