Many companies throughout the world are exploring the potential for developing SSLNG (Small Scale LNG) for a variety of reasons including monetising previously small uneconomic gas fields, reducing the use of coal and oil, the provision of energy supplies to small and often remote energy markets as well as facilitating the use of LNG in the marine, road and transportation markets. MJMEnergy has been able to offer a number of services to clients in this area including the following:
A technical and commercial overview of technology being deployed in this area.
An overview of existing and new developing markets based on SSLNG.
Technical and commercial assessment of potential SSLNG projects.
Modelling of complex logistics associated with delivering SSLNG to customers via truck, train or marine vessel.
The following are some examples of our work undertaken in this area.
South African Small-Scale LNG development
Senegal Interim LNG development
Namibia SSLNG Techno-Commercial Study
Indonesia LNG Linking
South African Small-Scale LNG development
Background
The energy sector within South Africa faces a number of challenges as follows:
A growing supply/demand deficit.
Capacity constraints for pipelines supplying industrial consumers.
The need to prioritise constrained gas supplies amongst different provinces.
In the light of the above, IFC, in collaboration with its Client in South Africa asked MJMEnergy to firstly provide technical and commercial support regarding the viability of an FSRU LNG import terminal on South Africa's East coast; And secondly, to undertake an assessment of potential gas demand resulting from both the enhancement of existing gas network infrastructure and the development of a new virtual pipeline network to serve off-grid customers using SSLNG technology. The focus of this project brief is on the latter.


Brief overview of the project
In particular MJMEnergy focused on the following areas in relation to SSLNG:
The demand analysis – The role of the Project Team initially involved a review of previous work, followed by a detailed analysis of potential gas demand via the existing gas network infrastructure (shown below) and via a potential virtual pipeline network.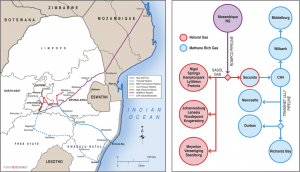 The operation and cost of the virtual pipeline network – In addition to assessing the potential demand via existing gas network infrastructure the Project Team also developed a market based nodal model that analysed the potential demand and associated costs for supplying gas to customers via a network of virtual pipelines. The model enabled the Project Team to optimise the cost of transporting LNG using both ISO containers by road, rail and ship as well via bespoke SSLNG tankers and rail trucks. The following schematic is an example of one of the scenarios modelled.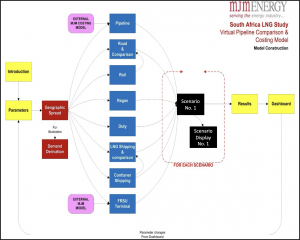 Key conclusions in relation to this work –The Project Team were able to conclude the following in relation to South Africa.
Additional supplies of natural gas will be required as soon as possible.
The gas market is growing and will continue to grow subject to availability.
Existing pipeline assets can be enhanced to deliver gas to the growing gas market.
A virtual pipeline network can deliver LNG to off-grid customers economically.
Project implementation
In order to undertake this work for MJMEnergy formed a bespoke Project Team made up from a combination of MJMEnergy internal staff, international associates and local partners in South Africa.
Senegal Interim LNG development
Namibia SSLNG Techno-Commercial Study
Indonesia LNG Linking