In addition to providing consultancy and publishing services, MJMEnergy has provided training and capacity building services to its clients throughout the world. One of the ways it has done this has been by developing the fictitious nation of Dynamica which has its own offshore gas fields, onshore transportation regime and gas consumers. Using this ingenious platform MJMEnergy has been able to develop a series of business games and simulations that very effectively introduce course delegates to 'real-life' situations in the safety of the lecture room. For example, gas trading, gas contract negotiation, gas market liberalisation and gas marketing strategies.


The following are some examples of our work undertaken in this area;
Intro to Dynamica
Dynamica: Negotiation
Dynamica: Gas Market Liberalisation
Dynamica: Gas Trading
Interactive Games
Intro to Dynamica
MJMEnergy has developed the fictitious island of Dynamica in order to provide a flexible and versatile framework for capacity building in the energy industry. 
By adapting the infrastructure of this fantasy island, just about any situation can be created to effectively communicate and build understanding of th
e energy industry – or any other business for that matter.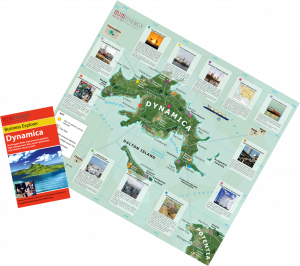 The island of Dynamica contains all the different characteristics of a developing energy market including the following:


Gas supplies – Dynamica is supplied by four offshore gas fields called Faith, Hope, Charity and Dependable. Also under certain circumstances Dynamica can import gas via an inter-connector or LNG via a new import terminal.
Gas demand – Dynamica has a variety of gas users including power generators, chemical plants as well as commercial and domestic customers.
Network infrastructure- Dynamica has an extensive high-pressure gas pipeline network, connecting supplies with customers and a neighbouring Island via an inter-connector. which
The actual details of companies, customers and market structures can vary from exercise to exercise depending upon the training requirements of the client.
Dynamica: Negotiation
Dynamica: Gas Market Liberalisation
Dynamica: Gas Trading
Interactive Games