The LNG industry is growing and changing around the world, with the market for LNG expected to double by 2030, driven by new LNG supplies emerging in the Asia-Pacific, North American and potentially East African regions of the world. MJMEnergy has been able to offer a number of services to clients in this area including the following:
An assessment of LNG liquefaction, regasification and shipping technologies.
LNG import terminal siting studies.
LNG import infrastructure feasibility studies, exploring different options and technologies.
LNG purchase contract strategies and negotiations.
The following are some examples of our work undertaken in this area;
Myanmar LNG import locations
LNG to Power in Vietnam
South Africa FSRU Viability
Myanmar LNG import locations
Background
In Myanmar, only 65-70% of the population have access to electricity, with consumption per capita around 160 kWh per annum, which is one of the lowest in the world. While Myanmar is seeking to meet this growing demand for electricity by developing gas-fired power generation, its plans have been hindered by constraints in indigenous gas production, resulting in a supply/demand deficit. To help Myanmar manage this supply / demand deficit, the World Bank contracted with MJMEnergy Limited (an international consulting firm) to assist the Government of Myanmar in developing a gas sector development plan. This work included the MJMEnergy Project Team being required to explore a number of potential LNG import options to meet the growing demand for gas in Myanmar. Therefore, MJMEnergy developed a bespoke Project Team, led by Mike Madden, consisting of international technical and commercial LNG experts, pipeline engineers, metocean analysts and economists to provide a detailed technical and commercial analysis of five LNG import locations, together with an analysis of the technical and commercial options for LNG imports.
Brief overview of the project
MJMEnergy provided detailed siting analysis for five the potential locations for LNG import facilities in Myanmar via an FSRU, covering the following;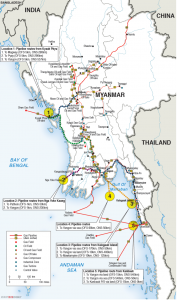 Technical studies – Work undertaken included; Metocean,  marine and port facility studies; The identification and costing of different LNG import facilities using different FSRU technical and commercial solutions; and an analysis of existing onshore pipeline capacity, together with estimated costs of any new infrastructure.
Commercial studies – This included; A review of previous studies, including the supply/demand match; and an analysis of different commercial LNG supply options from long-term LNG contracts, through to spot purchases and swap gas options.


Project implementation
The Project Team also produced extensive project timelines highlighting material lead-times, design, construction and commissioning times. Capacity building – In addition to this siting analysis, MJMEnergy developed a prioritisation tool for LNG import options and locations to support decision making by the various stakeholders in Myanmar exploring these options.
LNG to Power in Vietnam
South Africa FSRU Viability